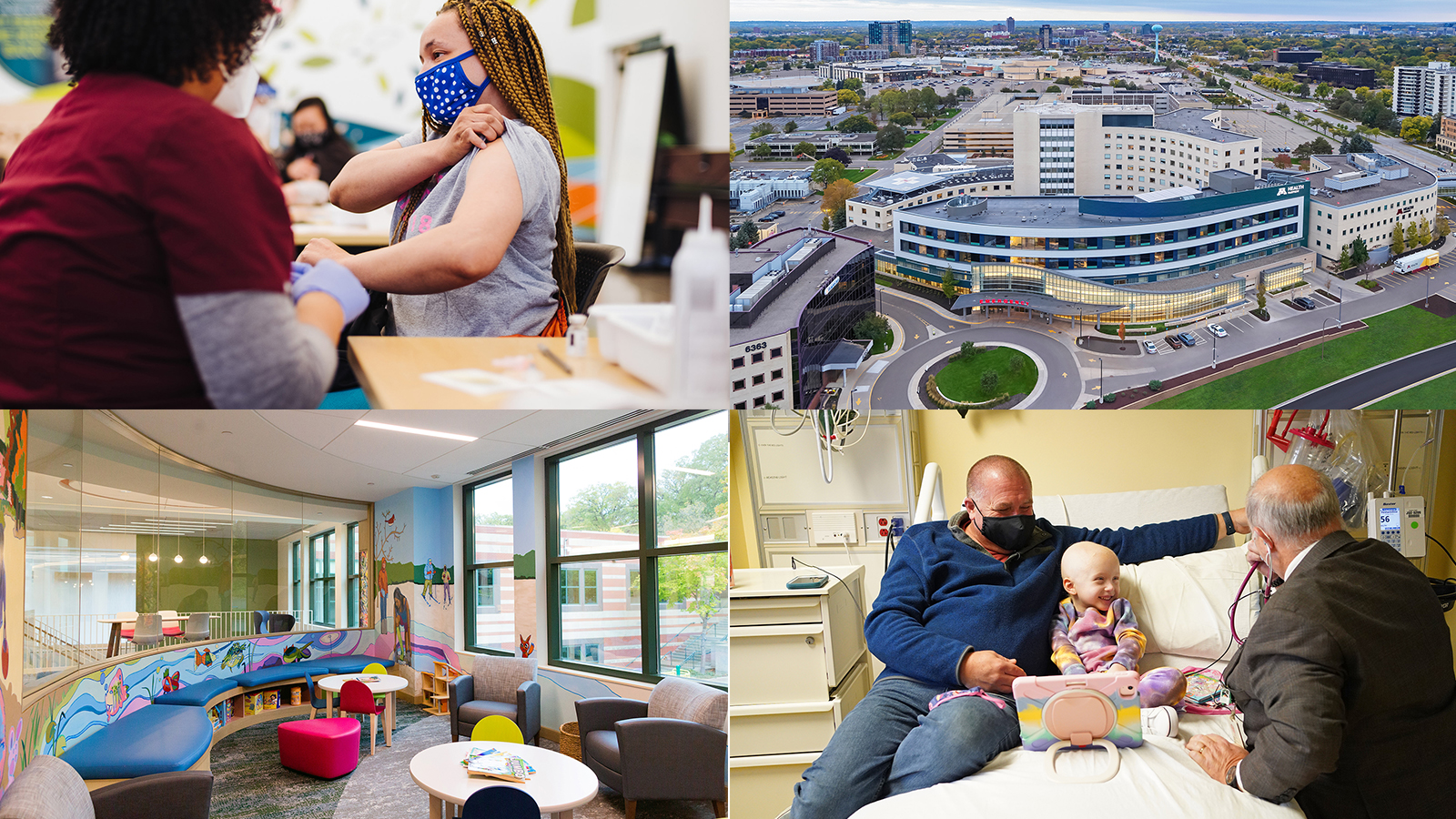 News and Events
2021: Stories that shaped our year
Through change, we've continued to put our patients and our community at the center of everything we do. From COVID-19 to groundbreaking treatments to expanded community health programs – these are the stories that defined our year.
December 28, 2021

By Staff Writer
This past year, we have faced one challenge after another: The ongoing pandemic, a mental health crisis, healthcare worker exhaustion in the face of another COVID-19 surge, and more.
But together we have taken extraordinary steps forward. Our courageous frontline healthcare workers have distributed hundreds of thousands of COVID-19 vaccines across Minnesota – vaccinating people at clinics, community centers, churches, and schools. We opened a new model for mental health care, unveiled plans for a community hub in St. Paul to fight health disparities, and found ways to lift up our patients and each other during a time of great need.
As we look back on 2021, here are the stories we think are worth celebrating.
Delivering hundreds of thousands of COVID-19 vaccines
When the first COVID-19 vaccines became available late last winter, we moved quickly to get the shots into arms. This year, we gave out hundreds of thousands of COVID-19 vaccines to people across Minnesota – a remarkable and rapid accomplishment that has helped our state reach a 76 percent vaccination rate. But that's not all. To better protect communities of color and others groups at highest risk while breaking down barriers to vaccine access, we partnered with churches, community centers, schools, and nonprofits to provide more than 38,000 free COVID-19 vaccines at trusted sites in the communities we serve.
Changing the status quo in healthcare by reducing disparities
M Health Fairview is committed to becoming an anti-racist, inclusive organization by changing our systems, structures, policies, practices, and attitudes. This year, we took several important steps that are bringing us closer to this goal. We stopped using race-based measures of kidney health, committed to reducing colonoscopy screening gaps, and named new health equity leaders to coordinate this work across M Health Fairview. Then, in November, we unveiled plans for the Fairview Community Health and Wellness Hub – a campus in downtown St. Paul that will address health disparities while providing a range of critical healthcare services and community resources.
Answering the mental health care crisis with a renewed commitment
Minnesota's mental health care needs are growing and changing, and we are responding with new and innovative answers. In March, we opened Minnesota's first EmPATH unit at M Health Fairview Southdale Hospital. Our pioneering EmPATH model gets patients experiencing a mental health crisis away from busy emergency rooms and into a calming environment staffed by mental healthcare specialists. Months later, we announced plans to partner with Acadia Healthcare to build an additional inpatient mental health hospital in the Twin Cities. Uniquely designed for patients receiving treatment for mental illness, the proposed facility will help us meet the region's growing mental health demand.
Investing in our hospitals to provide the best patient experience
We're transforming our care to provide a better patient experience. This fall, we added two new floors of single-occupancy patient rooms at M Health Fairview Southdale Hospital. Not only will our patients there benefit from more comfortable amenities, but the rooms can also be easily adapted for emerging needs. In Maplewood and Minneapolis, we redesigned and expanded our NICUs with better capabilities and more family-friendly amenities. Finally, we celebrated the 10th anniversary of our state-of-the-art M Health Fairview Masonic Children's Hospital building, which first opened in 2011. Natural lighting, cheery spaces, and world-class amenities were all built in with guidance and support from our community of patient families.
A groundbreaking clinic and research facility focused on childhood development
The Masonic Institute for the Developing Brain (MIDB) opened to patients this fall at a critical time for Minnesota families. Autism spectrum disorder (ASD) diagnoses are increasing nationwide and the COVID-19 pandemic has brought an additional increase in reported pediatric mental health concerns. Early recognition and treatment of these conditions is critical to helping children live their best lives, and MIDB provides families with a one-stop shop for childhood brain and behavioral healthcare – including leading-edge clinical care and access to groundbreaking research.
Providing hope during a difficult year
Unfortunately, COVID-19 continued to evolve in 2021. The delta variant arrived in Minnesota over the summer and is now being replaced by the even more contagious omicron variant. Health systems are overwhelmed, but researchers continue to study new therapies and our healthcare heroes continue to make a difference in patients' lives even while coping with pandemic stress and burnout. During the most difficult times, our incredible patients and employees are a source of strength and inspiration. Ben O'Donnell, the first COVID-19 patient successfully treated with extracorporeal membrane oxygenation (ECMO), came back to M Health Fairview University of Minnesota Medical Center to share a special recognition with the care team that saved his life.
Bringing the next frontier of care to the people and communities that need it most
Breakthrough care is part of our mission, and we continue to deliver. This year, M Health Fairview Masonic Children's Hospital was one of only 31 facilities nationwide recognized as a Rare Disease Center of Excellence. This fall, our care teams at that hospital performed the nation's first gene therapy treatment for one of these genetic diseases, metachromatic leukodystrophy (MLD). We also began piloting two exciting innovations at M Health Fairview University of Minnesota Medical Center. We are trialing a portable magnetic resonance imaging (MRI) machine with the potential to make MRI scans more accessible and comfortable for patients. We also opened a dedicated radiotheranostics unit in November. One of the next frontiers in cancer treatment, radiotheranostics provides highly targeted radiation therapy that stops cancer cells with fewer side effects.
Honoring the best of the best
On the hospital frontlines, in neighborhoods near you, and at leading-edge research labs, our care providers are rising to meet the moment – shaping the future of medicine while protecting the health of our communities. That's why this year our doctors and nurses were at the top of many statewide lists. More of our experts were recognized as Top Doctors and Rising Stars by Mpls.St.Paul Magazine and Minnesota Monthly than any other health system. Five winners and 22 finalists were honored during March of Dimes Heroes in Action Awards ceremony, an event focused on the important contributions of nurses statewide.