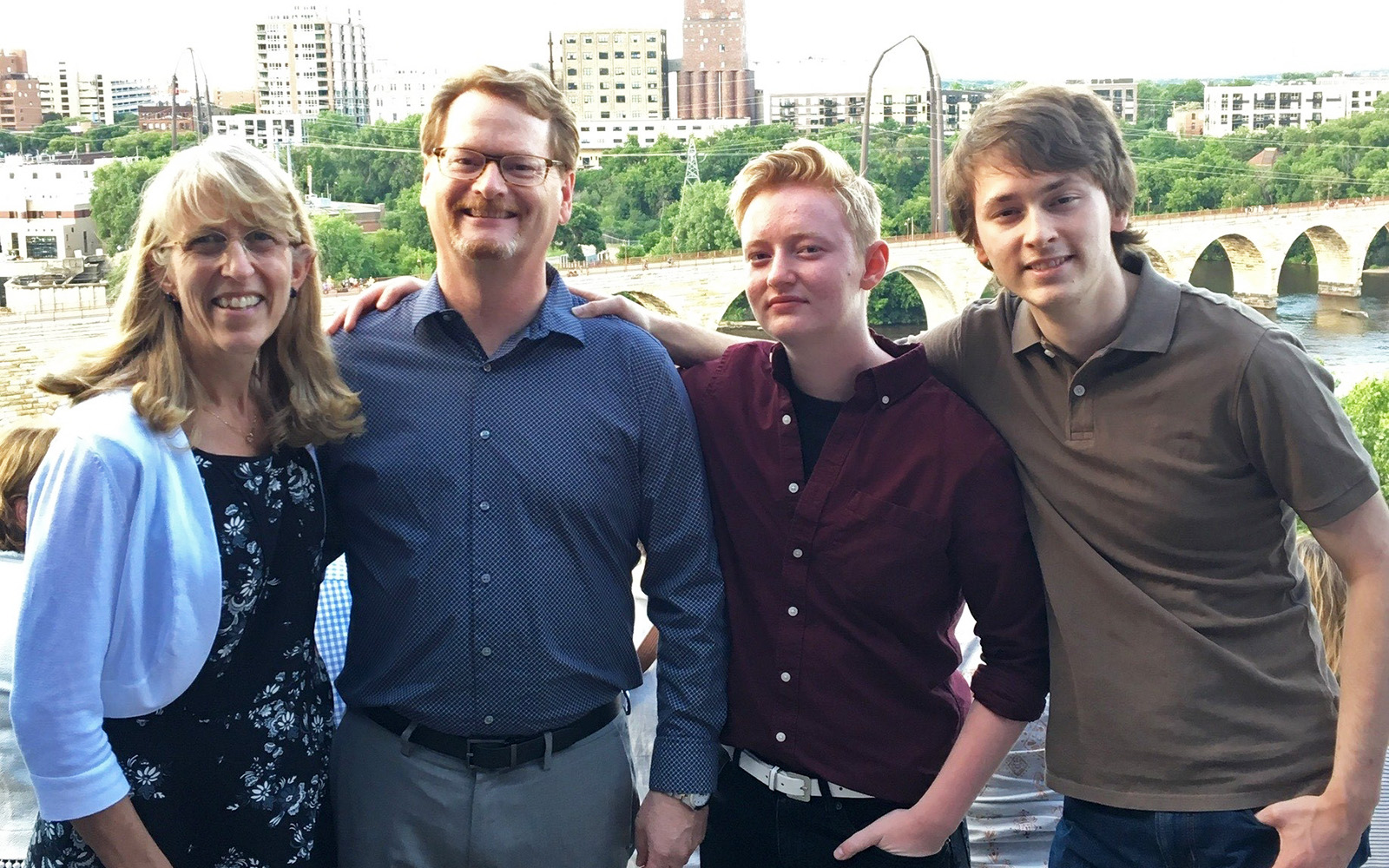 Our Patients, Breakthrough Innovation, News and Events
Baseball and a clinical trial provide hope to father with brain cancer
Tom Flock-Johnson returned to baseball only three weeks after M Health Fairview doctors discovered and removed two tumors from his brain. Now, he's beginning a clinical trial therapy that could be the next frontier in glioblastoma treatment.
October 18, 2021

By Staff Writer
Baseball has always been a big part of Tom Flock-Johnson's life, but it has taken on new meaning since he was diagnosed with glioblastoma this summer.
Doctors discovered the disease, an aggressive form of brain cancer, after Flock-Johnson had a seizure in August. He had surgery to remove multiple tumors and was back on the baseball field only three weeks later with the support of his care team. In his first game back, he even scored a run that helped contribute to his team's victory.
The emotional boost of getting back to a game he loves with teammates he's played with for years has helped Flock-Johnson cope with his life-changing diagnosis.
After a month of "normal" life post-surgery, he's beginning an innovative treatment that researchers hope will improve outcomes for his type of glioblastoma. The form of glioblastoma he has can be less responsive to standard chemotherapy.
"With the support of my care team, I was able to reconnect with my community after surgery. It really improved my emotional and mental state," said Flock-Johnson. "I'm still early on in this journey, but I believe that will have some impact on my treatment."
Seizure leads to glioblastoma diagnosis
M Health Fairview doctors found Flock-Johnson's tumors the morning after one of his weekly baseball games. He remembers playing as well as usual, having a cider in the parking lot, and going home. The next morning in the shower, everything went dark. His wife found him having a seizure, and his son quickly called an ambulance. Paramedics got Flock-Johnson out of the house. The next thing he remembers is waking up at M Health Fairview Southdale Hospital.
"There were no other warning signs, nothing that would indicate to me that I wasn't feeling well," said Flock-Johnson. "They discovered two brain tumors and performed surgery just a few days later."
Thanks to our leading-edge surgical care, Flock-Johnson was discharged only 24 hours after his operation. During his stay at the hospital, his care team performed frequent brain function exams.
"I felt normal, other than the scar. I wasn't in pain, I wasn't uncomfortable," he said. "I could still walk and talk. We quickly got connected with the doctors who would take care of me going forward."
Innovative treatment provides hope
Tests confirmed that Flock-Johnson had a specific type of glioblastoma called 'unmethylated.' Unmethylated glioblastoma has a mutation that can make it less responsive to standard chemotherapy. He was referred to M Health Fairview Neuro-Oncologist Elizabeth C. Neil, MD. Neil, a physician and an assistant professor of neurology at the University of Minnesota Medical School, conducts clinical trials that offer patients – like Flock-Johnson – new treatment options in an effort to improve outcomes while maintaining a high quality of life.
The clinical trial that Flock-Johnson enrolled in is testing two immunotherapies, which were approved in 2015 for the treatment of other cancers. Neil is now studying their potential in people with unmethylated glioblastoma.
This clinical trial is available across the country. M Health Fairview opened as a site this fall. The immunotherapies that she is studying have been proven safe and highly effective in past trials. Now, Neil and her team are comparing them directly to the standard chemotherapy treatment for unmethylated glioblastoma.
"We are enrolling patients through a nationwide collaborative effort," said Neil. "These immunotherapies have been successful in treating other cancers. In some cases, they have become the new standard of care. This clinical trial is investigating if similar results can be seen in their treatment of unmethylated glioblastoma."
The experimental treatment includes two different immunotherapies called checkpoint inhibitors, which are a relatively new advancement in cancer care. Glioblastoma shuts down a person's immune system, so the body doesn't attack the cancer. Checkpoint inhibitors prevent cancer cells from shutting down an immune response. This means the immune system is finally able to identify and fight the disease.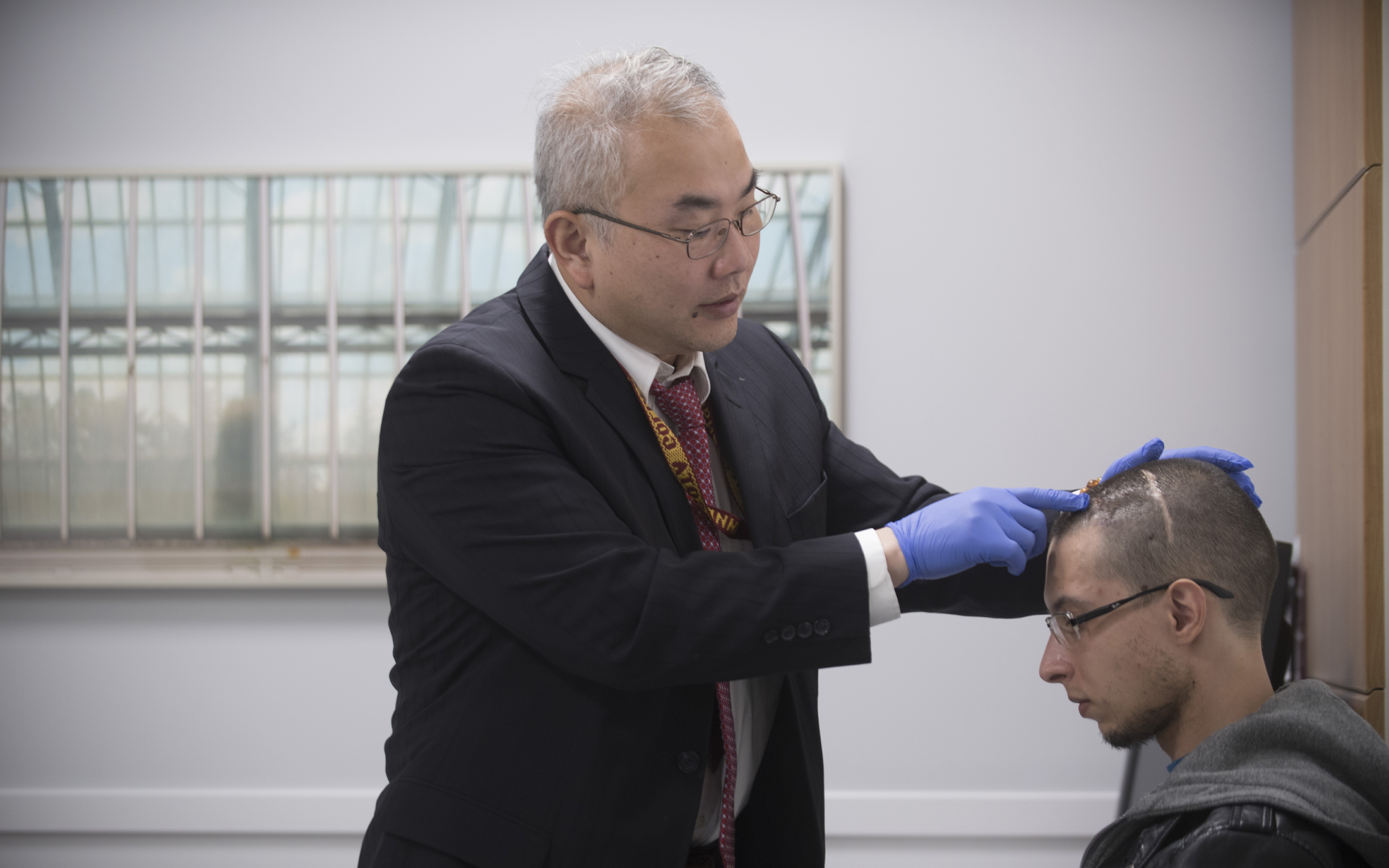 'This is how advances are made'
Flock-Johnson enrolled in the trial in part because it could give him a chance at a longer life. When he signed up, he didn't know which group he would be in – the group receiving the new, potentially more effective therapy, or the group receiving the standard chemotherapy treatment. After getting randomly placed at the beginning of the study, Flock-Johnson found out that he would be receiving the new immunotherapy. Either way, he was ready and willing to be a part of the study. His other reason for joining is that he's a scientist by profession.
"I know that this is how advances are made – through research," said Flock-Johnson. "This trial could increase my own chance of survival. No matter what, it will advance how we care for other people with glioblastoma in the future."
Flock-Johnson began his treatment on Oct. 12, buoyed by the month of "normal" time he spent in between surgery and beginning the clinical trial – playing baseball with friends, reconnecting with his work and church communities, and leaning on that support for the journey ahead.