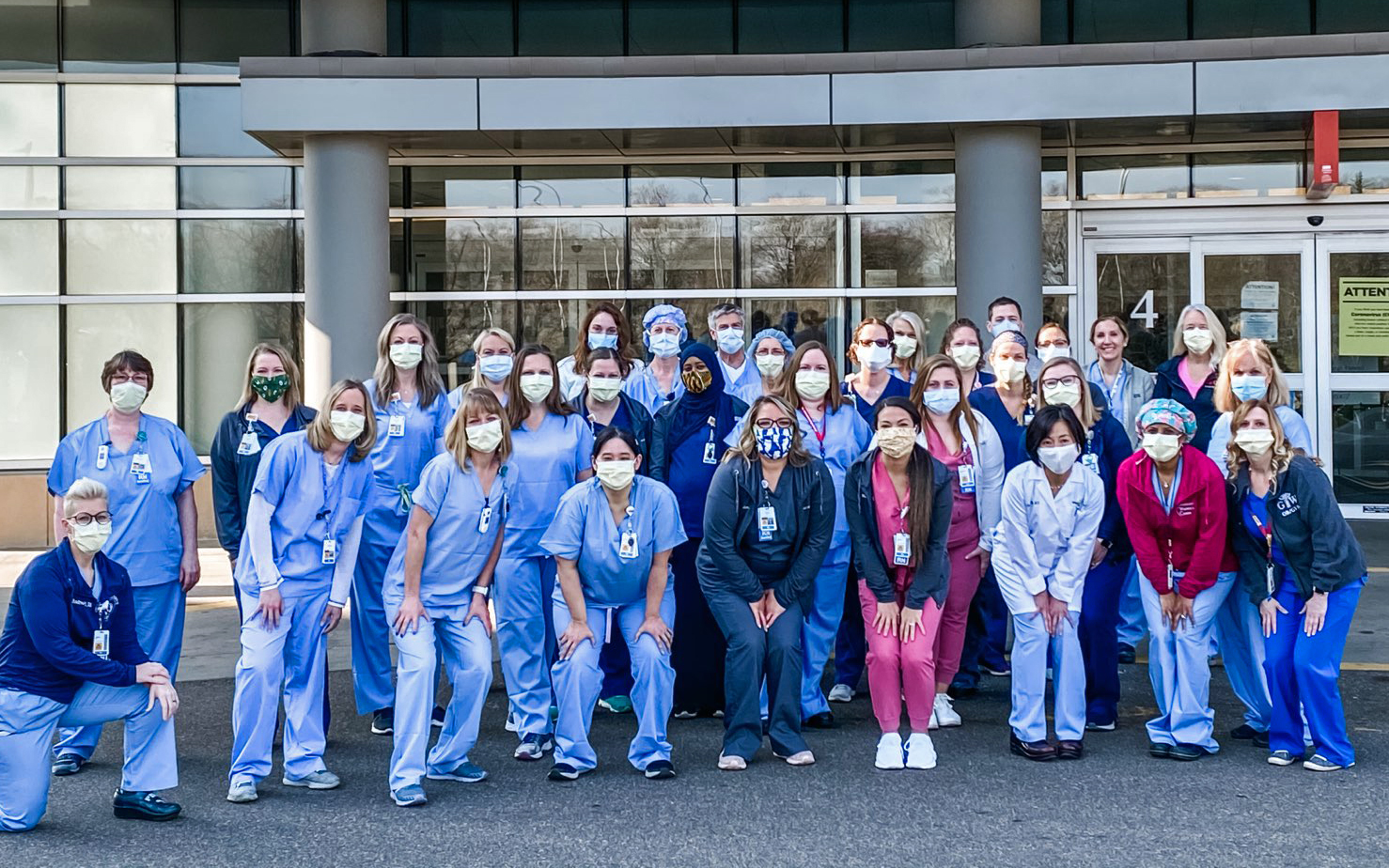 News and Events
Care for moms and newborns at M Health Fairview Southdale Hospital remains safe and uninterrupted amid COVID-19
You can still have a joyful birth experience in a safe and beautiful environment with help from our experienced and supportive M Health Fairview Birthplace staff.
April 30, 2020

By Staff Writer
What does the announcement of a new COVID-19 care unit at M Health Fairview Southdale Hospital mean for expecting moms planning to deliver there?
Fortunately, the answer is straightforward. The same comprehensive, compassionate care we've always offered at The Birthplace is still available for moms and newborns – with a few changes to protect your family and our staff from COVID-19.
We've compiled this guide to help you know what to expect during your delivery or appointment at The Birthplace. If you have more questions, we encourage you to talk to your care provider or call 952-924-5000. Our dedicated care team is ready to support you through your labor and help welcome your baby into the world!
What does it mean to have a COVID-19 unit and why is one needed at Southdale?
Southdale will not become a COVID-19-only hospital. Other health systems across the Twin Cities have already created COVID-19 units, and ours will be similar: COVID-19 patients at Southdale will be in a single unit on a separate floor with separate staff and no contact with other patients. This enclosed unit will even have an isolated patient entrance to further reduce the risk of exposure for non-COVID-19 patients at the hospital. If similar units at M Health Fairview Bethesda Hospital and M Health Fairview St. Joseph's Hospital reach capacity, Southdale COVID-19 unit will begin to receive transfers from other sites. You can learn more about our plans here.
Many other standard hospital services continue to be available during this time – including our Birthplace services, our level III neonatal intensive care unit (NICU), our emergency department and others.
What will it be like having my baby at Southdale or another M Health Fairview Birthplace?
"We have you covered during every step of your journey with us," said Shannon Blaisdell, director of nursing at M Health Fairview Southdale Hospital. "The experience will largely stay the same for our families. The biggest change they'll see is that our doctors and nurses are wearing masks."
Should I be worried about delivering my baby at Southdale or another M Health Fairview Birthplace?
"Pregnancy and delivery care at all M Health Fairview Birthplaces is safe for women, their partners, and their babies," said Obstetrician/Gynecologist Laura France, MD, the M Health Fairview Medical Director of Community Birthplaces.
To ensure that you and your baby have the safest birthing experience possible, our care teams have implemented the following precautions at The Birthplace at M Health Fairview Southdale Hospital:
A separate Birthplace entrance just for moms and families
Two-step COVID-19 symptom and temperature screening upon arrival for all patients and visitors
Universal COVID-19 testing for all admitted patients
Universal masking for all nurses, doctors, and other care providers
Enhanced visitor restrictions limiting patients to one visitor age 18 or older
A separate, dedicated care area for moms diagnosed with or suspected of having COVID-19
The presence of a dedicated COVID-19 unit at Southdale – when combined with universal testing for all admitted patients – greatly reduces the risk of exposure for patients at the hospital because these steps ensure that COVID-positive patients will not share the same space as non-COVID patients within the hospital.
"I am proud of the excellent care my patients receive at The Birthplace at M Health Fairview Southdale Hospital," said Obstetrician/Gynecologist Lindsay Darrah, MD. "It is really second to none, and we will continue to be here every step of the way with our patients through these unprecedented times and beyond."
What Birthplace amenities and options are still available for moms?
All of the services and amenities that were available for women and their families prior to the COVID-19 pandemic are still available. This includes:
Therapeutic labor techniques such as hydrotherapy tubs, birthing balls, peanut balls, squatting bars, essential oils and inhalers, birth slings, and fetal monitoring with Bluetooth technology.
Certified nurse midwives, obstetricians, and nurses
A spectrum of pain relief options, including tap blocks and epidurals
Help with breast feeding by trained nurses or certified lactation consultants
Private rooms with free WiFi to allow you to share your news with loved ones
A level III NICU for newborns who need extra care after birth
As a pregnant woman, am I at greater risk for COVID-19 complications? What about my baby?
Early evidence suggests women who are pregnant are not at higher risk for severe complications if they catch COVID-19, nor does the disease seem to cause a higher rate of miscarriage or birth defects. Research data also indicates that women are not at risk of transmitting the virus across the placenta, during delivery or in breast milk. Learn more about COVID-19 risk during pregnancy.
What should I do to prepare for my delivery?
Your provider and care team will give you comprehensive instructions prior to your delivery or hospital appointment. For the most part, your experience will remain the same, except for visitors being limited to a single healthy adult during your hospital stay. We understand that may be challenging during such an important time, so we encourage you to connect with loved ones using video or virtual gatherings.
If you have COVID-19 or suspect that you may have it, please notify your provider before arrival so that we may make special accommodations and preparations for your care.
What about other M Health Fairview Birthplace locations?
All six of our other M Health Fairview Birthplace locations remain open, and many of the same COVID-19 precautions have been implemented at those sites to reduce the risk of exposure for moms, newborns, and families.
The latest M Health Fairview updates are available on our COVID-19 digital resource hub.