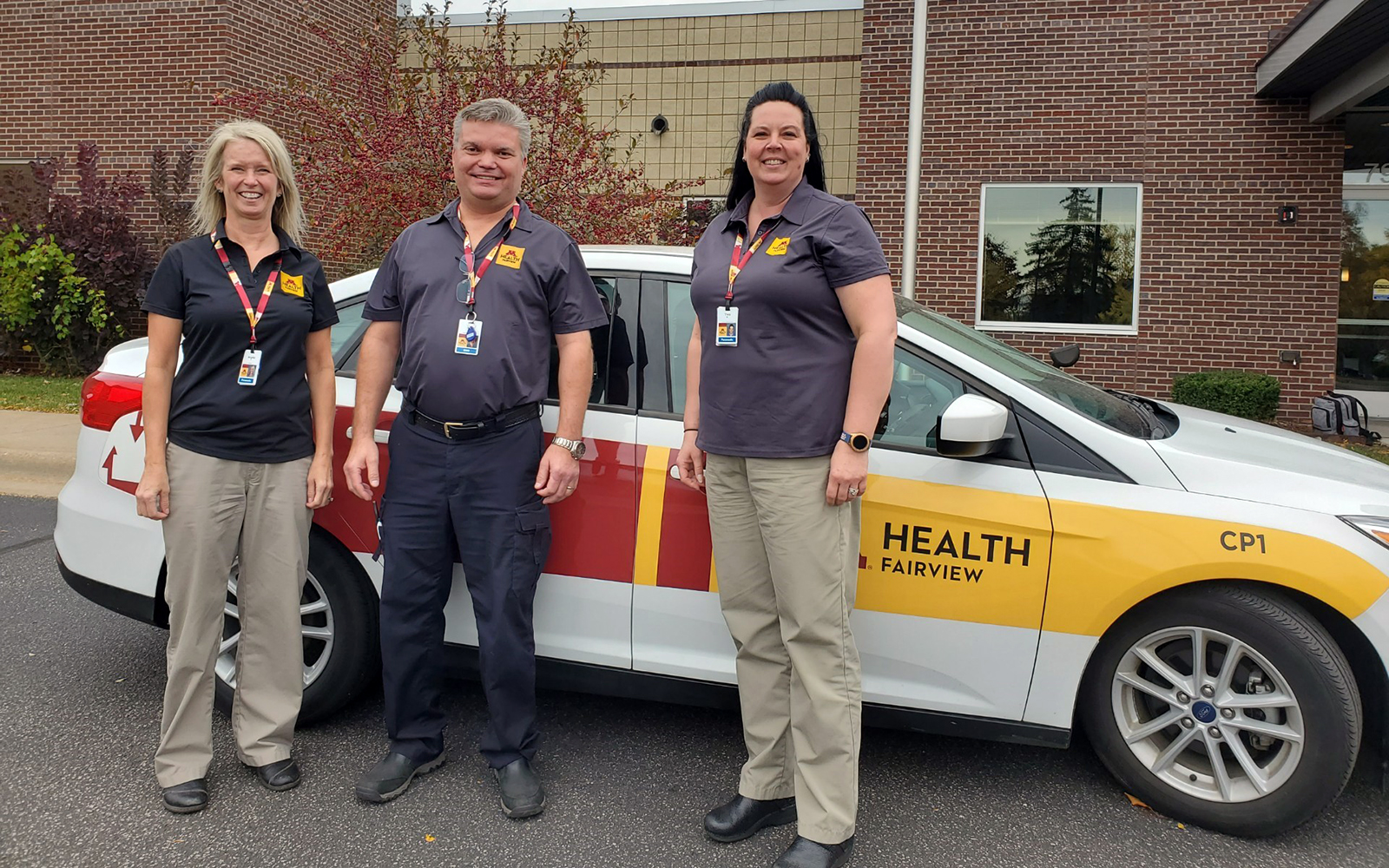 News and Events
With At-Home Visits, Community Paramedics Reduce Covid-19 Risks For The Most Vulnerable
COVID-19 has made leaving home particularly risky for the elderly or those with complex medical conditions. To help, M Health Fairview's Community Paramedics are expanding at-home healthcare.
October 14, 2020

By Staff Writer
The COVID-19 pandemic has made leaving home an uneasy or nerve-wracking experience for many - particularly the elderly and those with complex medical conditions.
To ensure that people who face a higher risk for COVID-19 continue to have access to safe and helpful medical care, the M Health Fairview Community Paramedic Program has expanded its at-home visits. During these visits, paramedics provide flu shots, COVID-19 safety education, health assessments and assistance with virtual care appointments. Sometimes, patients just need a friendly ear or face - someone to who can explain the takeaways after a virtual care appointment or help them with feelings of loneliness and isolation.
"The program supports patients no matter their situation or needs so that they feel like they are on track to get back to better health and wellbeing," said Tracy Telander, M Health Fairview's system director of connected care.
The community paramedic program uses data from the Minnesota Department of Health to identify patients who may be at higher risk of getting COVID-19 or could face a more severe infection from the virus causing the disease. The program launched in 2018 to assist patients with complex medical needs who may have trouble making clinic visits due to health, mobility, or transportation barriers.
The arrival of COVID-19 created a new challenge for these patients: leaving home increases their risk of being exposed to the virus. So the program adapted to meet their needs.
"This program is keeping patients at home," said Community Paramedic Thea Kogler. "It's keeping them from going out and being in contact with COVID."
Virtual care platforms like Oncare.org, our 24/7 online clinic have, made access to care easier for many during the pandemic. But for those without access to technology, virtual care is much more challenging.
"Virtual care is amazing if you can understand how to do it and have the tools to do it. But we have found that there is a vulnerable patient population that does not have the capacity to do that. This program has allowed us to be that venue," said Telander.
Kogler believes the program fills a gap for patients who are not served well through a traditional primary care model.
"Some people use emergency rooms a lot or make a lot of doctor's appointments because they don't understand their illness," Kogler said. "We take time to visit their home and explain things to them. Sometimes they just need an explanation in a comfortable, familiar setting."
This new bridge between community and clinical care is working, according to data that shows a decrease in emergency room visits and inpatient hospital visits among people enrolled in the program.
Community Paramedic Angela Townsend sees the impact of the program. "I have watched patients become empowered to manage their own health," she said. "The program has helped patients manage their medications or change unhealthy habits."
For Kogler and Townsend, the program is really about the relationships with the patients.
"I like to sit down with patients and help care for them at home and fix their situation. They might just need someone to help them out a little bit," Kogler says.