Becoming a Volunteer
Thank you for your interest in volunteering! Volunteers are an integral part of our team and share our commitment to provide exceptional experiences to patients, families, our communities, and to one another. Every day you will find our volunteers going above and beyond, ensuring interactions are personal and positive. The outcome is a better experience for all.
"I volunteer to help others and to improve their day, my days are brighter as a result."
– M Health Fairview Volunteer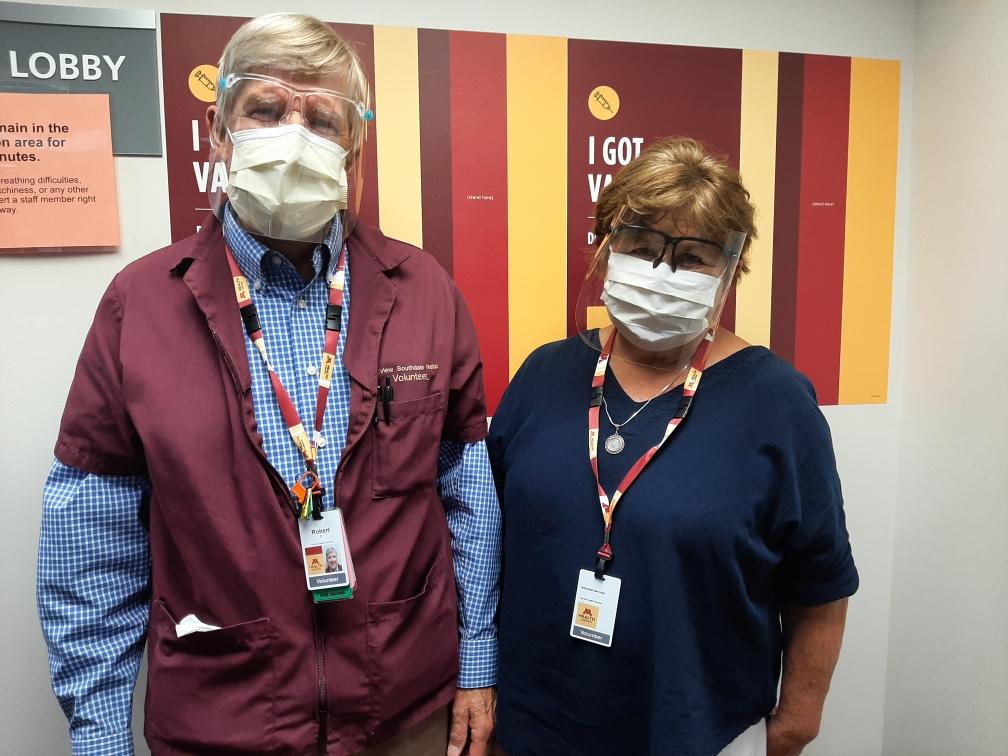 Getting Started
We are currently accepting volunteers at the locations below. To apply, click on an application or reach out to a member of Volunteer Services. We are happy to answer questions and assist you in finding the perfect opportunity.
The annual flu vaccine and COVID-19 vaccine is now a requirement for all providers, employees, students, volunteers, vendors, and contractors. Both the flu and COVID-19 vaccines are free of charge for volunteers and a volunteer coordinator will provide additional details on this process.
High priority volunteer opportunities at M Health Fairview Lakes Medical Center - Contact Katie Swanson (katie.swanson@Fairview.org) to learn more.
Frequently Asked Questions
Opportunities include:
Patient Companionship
Clinical Support
Administrative Support
Off-Site Virtual Support
A volunteer coordinator will be able to provide details for each location.
Volunteers must be 15 years old. Volunteers under 18 years of age will be required to submit a parental permission slip.
Apply: Submit an online application
Interview: Participate in an interview
Learn: Complete online learning
Screen: Background Check and Fingerprinting, TB test, proof of vaccines
Orient: Online orientation prior to first shift
This depends on the motivation of the applicant. After submitting your application, you will be contacted by a volunteer services coordinator to set up an interview. After the interview, you will have 30 days to complete the screening process and online orientation. Most applicants can complete these activities within two weeks.
M Health Fairview has developed an approach to safely allow for volunteers to support various volunteer needs across the system in accordance with system safety and training guidelines. Volunteers will be required to comply with all social distancing and masking policies and our team will round to ensure adherence.
It's our responsibility as a healthcare organization deeply rooted in our community to protect the wellbeing of our teams, provide a safe and healthy environment for those we serve, and to set an example for our neighbors.
Research overwhelmingly shows that getting a flu vaccine and a COVID-19 vaccine dramatically reduces your chances of spreading illness, experiencing severe disease and, potentially, death.
Are You a Good Fit?
We are seeking volunteers that are at least 15 years old and meet the following criteria:
Reliable
You are reliable, since our patients, families and staff count on you to be here when you are scheduled.
Many of our roles function fairly independently. Volunteers who are the most successful are the ones who take initiative and are proactive.
Commit to a minimum of 100 hours over several months
Positive Attitude
You have a professional and positive attitude.
The patients and families we serve are likely feeling stressed and overwhelmed. The empathy and compassion you provide make a difference in their experience.
Service-Oriented
Each task or interaction, no matter how big or small, can positively impact someone's experience. Volunteers with a service-oriented mindset can help make a positive impact.
Information Center for Current Volunteers